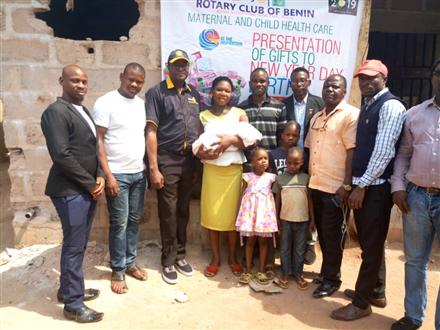 Rotary Club of Benin celebrates New Year Day Baby
Rotary club of Benin donates cash sum and baby items to new year day baby. First of its kind .
Rotary club of Benin visited the university of Benin teaching hospital a foremost hospital in Benin to celebrate with the first baby born on new year day…first of its kind. We thereafter left the hospital with the family to their modest home not too far from the hospital of birth. A cash sum was presented to the mother of the baby. The mother and the father of the baby were so full of appreciation to rotary club of Benin for the kind gesture more so when they were taken unaware. They stated that part of the money given would be used to buy medicare for the baby while some will be used to defray medical cost. The sum of 50,000 naira was given to the parents of the new year day day…which was delivered at about 3.00am on the new year day. After the presentation a group photograph was taken with the new year day baby and family.